Important Travel Health Tips To Keep In Mind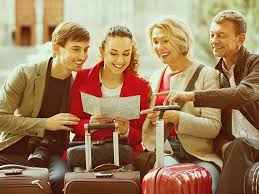 While going to different places, is always a fun experience, traveling can also be tiring and stressful at times, especially when there are cases of lost baggage, delayed flights, or accidents along the way. The nature of traveling can sometimes take a toll on a person's health, weakening his/her immune system, and making him/her susceptible to different kinds of viruses and illnesses. Because this possible risk, it is important that one should prioritize his/her health and safety while traveling. Keep these travel health tips in mind so you can enjoy your vacation without having to worry about your health.
Be fit and healthy
Before the trip, make yourself fit and healthy by getting regular exercise. Even if your work is up to your eyeball, you do not have any excuses not to exercise simply because working out can be done without having to hit the gym. You can incorporate exercise into your daily routine. Instead of riding the car to work, ride a bike or walk. Instead of using the elevator, climb the stairs. Instead of discussing work plans with your officemate over online chat, walk up to him or her. Instead of hitting the showers the first thing in the morning, do a couple of sit-ups and jogging in place first. Not only that, you should also have a well balanced meal packed with nutrients, vitamins, minerals, and antioxidants. Go for foods that are low in fat but high in fiber and nutrients. Be sure to get enough sleep as well. You would not want to be lethargic and sluggish during your trip.
Take it slow
Do not sweat the small things. Stress over planning and preparations can get the better of you that you would not have sufficient energy to enjoy the trip. Get help from other people for things like packing, buying airline tickets, and so on. During the trip, do not cram all the things to see in one day. Make sure you pace yourself the right way so you do not consume all your energy on your first day. Remember, it's not about the quantity but the quality of the vacation. Try to relax your mind and calm your nerves by engaging in fun and laidback activities. After all, going on a vacation is about relaxation.
Get travel health insurance
Do not leave home without the right international health insurance. Some insurance companies offer services online so you do not have to worry about visiting their offices physically to get visitors insurance. USA, Europe, Asia, and many parts of the world, are covered mostly in these policies. Make sure that you check to see what locations the policy covers and what inclusions are there in the policy so you know you are getting the right one.
Visit the doctor
Before you leave for your trip, go to the doctor for a complete medical checkup. This way, you would know if you are fit enough for the trip. The doctor will also advise if you need to bring any medication for your trip. Moreover, you would also be able to get the necessary immunizations that you need, particularly if you are traveling to remote or exotic destinations.
For more tips and information about visitor insurance usa please visit: international health insurance